It might seem strange to give the title of an Eagles song that was written and sung by Don Felder as a tribute to Glenn Frey, while Frey is in fact one of the people responsible for singing and composing classics such as "Take It Easy", "Tequila Sunrise" and "Lyin' Eyes".
But in 1975 Visions was the first Eagles song I consciously heard and it immediately came to mind when I read about the passing of Glenn Frey.
It must have been in the summer of 1975 when Herman Stok played tracks from new LPs during his radioshow "Mix" on Dutch radio station Hilversum 3. Together with my best friend and neighbour Frank in our hometown Uithoorn, we were transfixed to the radio when Herman played the song Visions from the Eagles' new LP "One of These Nights".
It caused a minor revolution in our musical lives. Up until that point it was all about hard-rock. Deep Purple, Uriah Heep, Led Zeppelin, Black Sabbath, but suddenly the door was opened to new musical realms courtesy of "Visions".
The LP was quickly aquired and the search for new music had definitely begun and continues to this day. But first the earlier Eagles records had to be discovered. Desperado had an even more profound effect on me and is still one of my all time favorite albums, an impressive concept album and a record which I have listened to so many times, I know it in my dreams.
The 3rd LP "On the Border" has always been somewhat in the shadows, but is nevertheless a beautiful record that, thanks to the cover of the song "Ol' 55", made me aware of the music of Tom Waits who is still one of my biggest musical heroes.
Of course there was also the debut album titled "Eagles" with the famous "Take It Easy", written by Jackson Browne with some help from Glenn Frey. A song with which the Eagles had already put themselves on the map in 1972, about 3 years before we got to know them through Visions. Of course we weren't aware of this at that point, because as young teenagers we were more pre-occupied with Middle of the Road, Mud and The Sweet.
The phrase "Standin' on a corner in Winslow, Arizona" immediately stuck and the town Winslow slowly grew to mythical proportions in my mind. When Frank and I made a trip along Old Route 66 in the early 90s and approached Winslow, Arizona I was filled with a sense of anticipation. When we drove into town we were surprised to see a sign that said "Standin' on a corner, six blocks away". And indeed, a little further down the road there was that famous "corner". Naturally, I had to have my picture taken there. It became the "action photo" shown below in which I am putting a postcard to my father in the mailbox. Seven years later a whole "Standing on the Corner" park has risen there and all of that because of one line in a world renowned country-rock song. By the way, apart from that Winslow was a pretty inconspicuous place.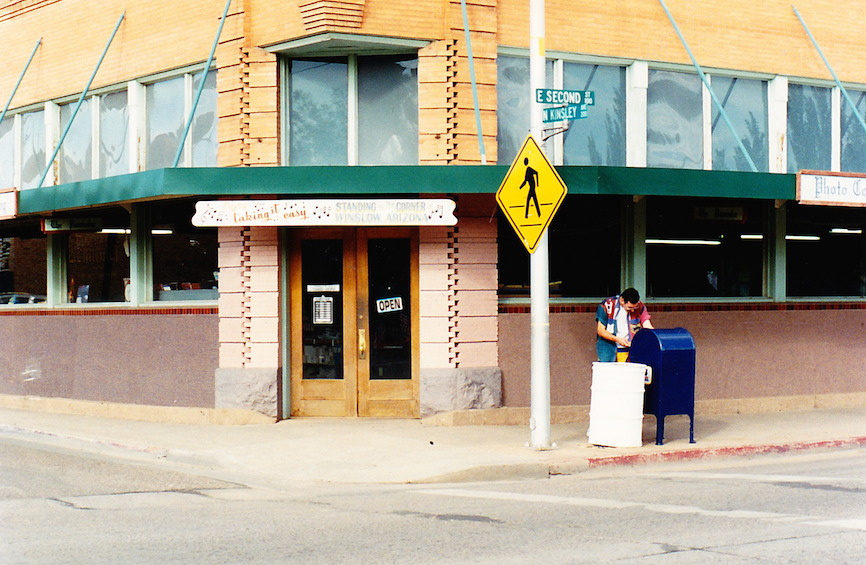 Through the years the music of the Eagles has become embedded in my ever-growing multi-faceted music collection. In the documentary about the Eagles that I recently watched they didn't come across as being very sympathetic and friendly, especially to each other. This has actually been known for quite a while but still was pretty painful to watch.
Nevertheless, my love for their music has always stayed with an absolute preference for the album Desperado. And then suddenly on teletext it said: "Glenn Frey has died". This really shocked me because not only did a great musician, singer and songwriter pass away, but I also instantly realized that another part of my childhood was gone forever.
Soon after, Frank and I almost simultaneously had the impulse to phone each other and we also instantly knew why. Not many words were necessary but the fact that the entire "One of These Nights" album will be played non-stop for the next few days in both our homes is pretty self-evident.
Lastly, to quote the last track on One of These Nights, written by Bernie Leadon:
Glenn Frey, "I Wish You Peace".
Rob Herman, Hengelo, 19-01-2016